LINER sea container insulation for insulating sea containers 20DV - 40DV - 40HC - 45DV
When temperature-sensitive products are transported by sea freight, these goods are usually transported in temperature controlled containers, also called reefer sea containers. Reefer sea containers are insulated sea containers which are equipped with a cooler engine. This cooler engine generates a certain temperature in the sea container so that the products can be kept at the desired temperature. The reefer sea containers are well known to transport all kinds of temperature-sensitive products such as food, pharmaceuticals, chemicals, etc...

Although the reefer sea container is equipped with a cooling engine, and can thus generate the ideal temperature, it does not mean that the generated temperature is automatically correctly or that the cold chain is automatically closed. Experience shows that even with refrigerated reefer containers certain holes can be found in the cold chain where the temperature can differ greatly. Loading and unloading processes in the port or harbor for example, where the sea containers are moved from the truck to the ship, are a good example of temperature excursion locations or HCCP's (Hazardous Critical Control Points).
An alternative for transporting temperature sensitive products via conditioned reefer containers on sea freight is implementing insulated sea containers in which a passive cooling system is created. Passive cooled insulated sea containers are often used, for example for beverages (soft drinks - water - beer - wine). To create this formula, a standard sea container is insulated with a particular insulating material that offers sufficient resistance in order to ensure the desired temperature of the goods. The higher the insulation quality, the better the temperature guarantee.
Protocols for insulating sea containers (how-to-use instructions)
How do you need to insulate a sea container? This is an important question. When the sea container is insulated badly, bad temperature results will be noted which will have an impact on the quality of the time-temperature sensitive products. Insulating good is thus an important issue, but how it is done? To provide you with answers, we have developed several protocols which function as user guidelines which can be followed to insulate a sea container. The developed protocols show you step by step how the sea container needs to insulated. Drawings and pictures visualize each step so you know perfectly what to do to create the ideal insulated sea container. All protocols are available in booklets in a PDF format.
Model 1 : Protocol "SEA-EYE"
The protocol "SEA-EYE" shows a very fast and easy way to insulate a sea container. The material used in these pictures is Remax (0,4cm) and can be transferred into other Temax insulation qualities for more temperature protection performances. The complete protocol with how-to-use steps is available in PDF files.
Insulation Qualities
Temax-4000 (thickness 3,5cm) / Temax-2000 (thickness 2cm) / Temax-1000 (thickness 1,4cm) / Temax-500 (thickness 0,7cm) / Remax (thickness 0,4cm)
MOVIE / Protocol SEA-EYE – insulating sea container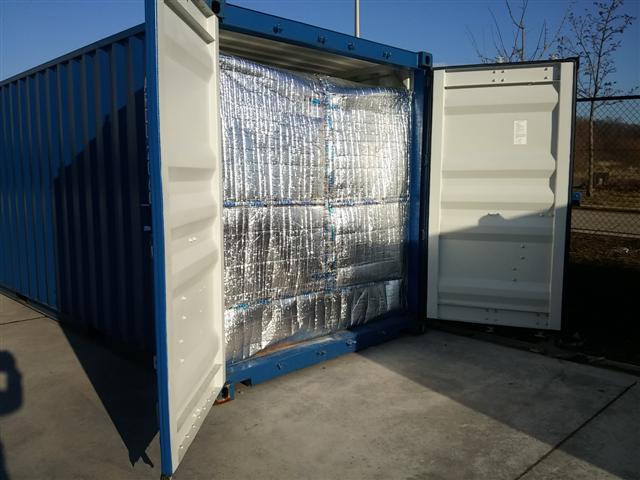 Model 2: Protocol "SEA-TUBES"
Why use Temax insulation for insulating sea containers
When products are transported with sea freight, the goods are in transport during a long time until they reach their destination. The sea containers are transported over sea and land from sender to receiver until they reach the receiver where even multiple continents can be crossed. The question that needs to be asked in this transport situation is what the temperatures will be during this total transport. This question becomes even crucial when time-temperature sensitive products are transported. Experience shows that in sea transport extreme high or extreme low temperatures can appear in which the sea containers are exposed. When time-temperature sensitive products are transported in these conditions, a high insulation quality is required to offer a certain thermal resistance and certain temperature preservation against these extreme conditions. This is what Temax can offer. Temax offers a high insulation quality in a multilayer configuration that can offer a thermal resistance against extreme weather conditions.
More models and products at next update.