What is the "Carry Box" insulated cardboard box
The insulated carry-box is a cardboard box that is pre-insulated and equipped with a handle to carry. This insulated cardboard box is used to transport time-temperature sensitive products such as conditioned, temperature controlled, food products, pharmaceuticals or healthcare products, etc... The insulated cardboard carry box is ideal for the last mile transport systems as from the supermarket to the customers home, from the pharmacy to the customers home, etc... As soon as the insulated box needs to be carried, this carry box becomes very handy. The insulated cardboard box is also pre-insulated with Temax insulation material as showed in the pictures below. This makes the handling and preparation of the insulated box very easy and fast. The pictures below show how this unique carry box is used.
How-to-use the insulated Carry Box
The by Temax developed insulated Carry Box system is a very easy to use packaging system to pack and transport time-temperature sensitive or temperature controlled products such as fresh or frozen food products, chilled or ambient pharmaceuticals or healthcare products etc... The pictures below show how fast the insulated Carry Box can be used. Please notice to seal the insulated bag firmly so no air can float in or out of the insulated thermal bag (thermal bridges - cold bridges). Always place gel packs or ice packs on top of the products (cold temperatures sink down) and make sure that the products are pre-packed when placed in the insulated bag. The thermal insulated bag is a secundary packagng system.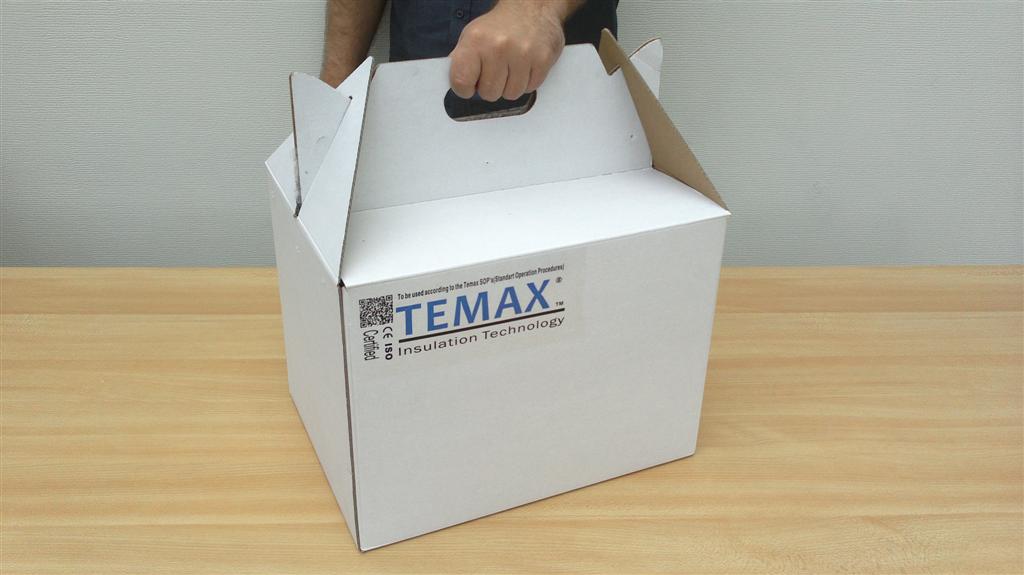 Unique insulation design to close all cold bridges - thermal bridges
The insulated cardboard carry box has a special designed insulation set-up - design to make sure that cold bridges or thermal bridges are avoided. The pre-fixed insulation material on the cardboard box creates a certain pressure at the closures creating a thermal sealing system. Easy, fast and efficient
Technical specs Temax insulation
The company Krautz Temax develops and produces the cardboard boxes and the insulation which give the big advantage to produce tailor made according to the requirements of the customer. Below you can find a number of special folding boxes which were developed for the transport and distribution of temperature sensitive food and pharmaceuticals or medicines. If you have a special request, please do not hesitate to contact us.
- Tailor made production
- High insulation quality
- Resistant = radiation, convection, conduction
- Flexible foldable = minimal storage required
- Water proof
- No condense on inside our outside
- Recyclable
Insulation qualities